In America it's Mardi Gras or Fat Tuesday, in Germany it's Karneval or Fasching, and in the UK it's Shrove Tuesday, or Pancake Day. The day before Lent (the Christian fasting period before Easter), is normally a day of feasting, preparing oneself for the lean times ahead. How that naturally developed into eating pancakes with lemon and sugar I'm not entirely sure, but I'm not one to complain.
Normally I'm a round, thin, pancake with copious amounts of lemon juice and a sprinkling of crunchy, granulated sugar kind of gal, but this year I wanted to do something new, and try lace pancakes.
These appeared on the Great British Bake Off back in it's BBC days, and apparently made such an impression that I was ready to make them in 2020, 4 years later.
I followed this BBC recipe, but despite a last-minute mad-dash to find one, I didn't have a squeezy bottle. A plastic water bottle with a sports cap was the best alternative I could find – I think alternative might be a keyword in this challenge.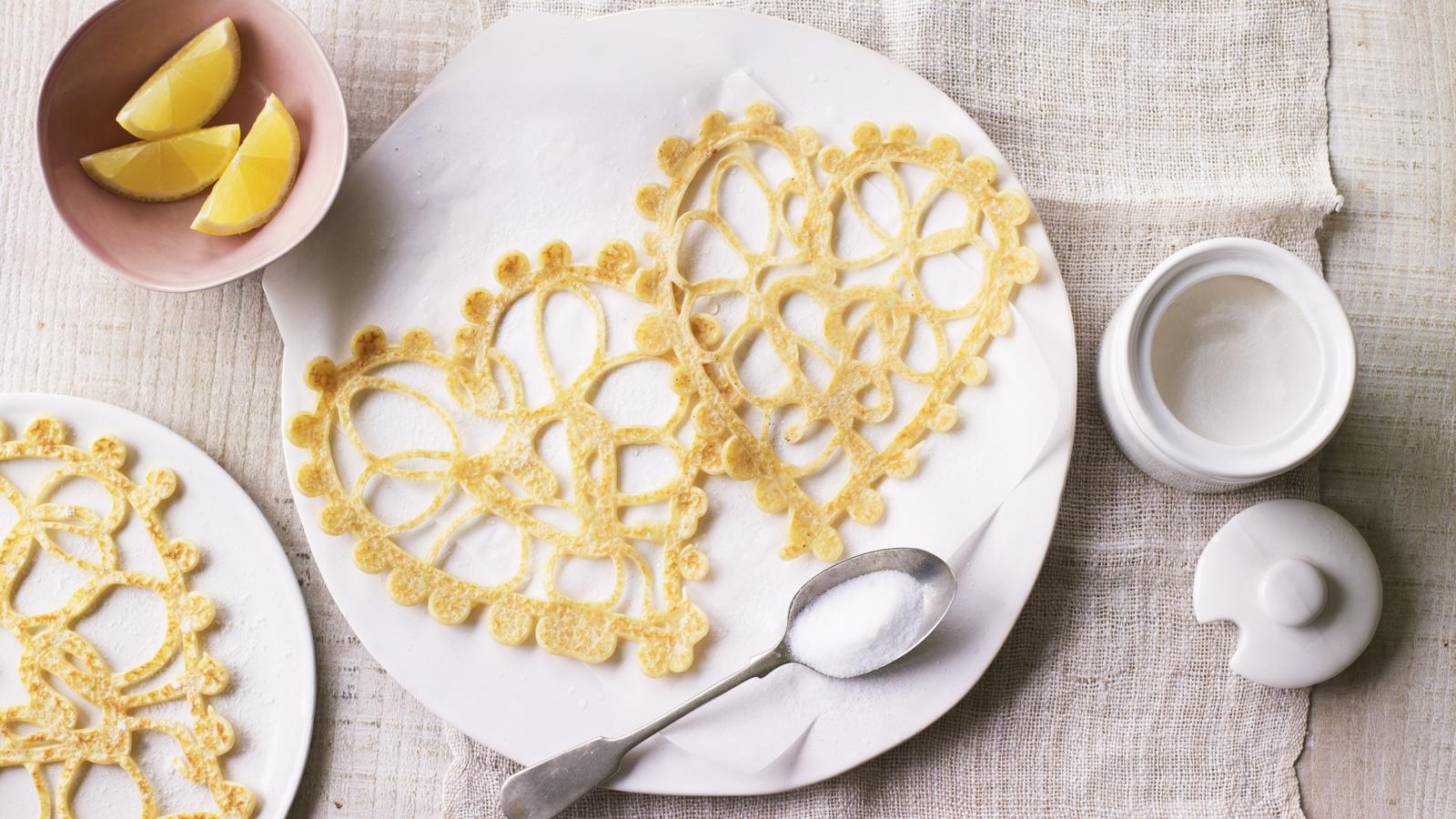 Er…this was not as easy as I imagined. The batter was quite thick which was good, but due to the wide nozzle of the sports bottle, made all our efforts look extremely…chunky.
My friend and I absolutely cried laughing making these – they looked so rubbish! We had a little fun with it, and I ended up trying to make some versions of previous challenges.
They were fun to make and delicious too, but by the end, I was craving my sharp lemon and crunchy sugar. I whipped up another batch of proper ones and prepared for my 'fast' over Lent the traditional way – by scoffing a load of pancakes.
*A quick note about Lent. It's still quite traditional to abstain from something during this six week period before Easter: a lot of people give up chocolate before all the sugary Easter eggs arrive. I'm not religious, but as I imagine it is with a lot of predominantly Christian countries, certain religious ways become a tradition and habit. I don't partake in Lent every year, but this year I've seen it as a good idea to try and cut down on my sugar consumption – I've noticed over the past few weeks it was steadily climbing, so I want to try and nip it in the bud. I'm not going cold turkey, just sticking to low-sugar items (no more than 5g of sugars in 100g), and I'll still have a little honey and dark chocolate just to stay sane. Let's see how it goes!